>








Mafia Wars: MADE – Las Vegas 2010
Friday, October 15, 2010 at 8:00 AM
–

Saturday, October 16, 2010 at 8:00 PM (PT)
Las Vegas, NV
Event Details
There's no turning back once you've made it in the Mafia.
What are you waiting for? Get MADE!
About the event:
If you love Mafia Wars, it's time you become a MADE Man or MADE Woman at Mafia Wars MADE in Las Vegas! The Dons of Mafia Wars will be in Las Vegas for the first-ever gathering of players and Mafia Wars Game Developers. Show your mafia loyalty and connect with the player community to share your passions, ideas and strategies. At Mafia Wars MADE, you'll gain inside access to upcoming game features, a sneak peek into the next city, and get exclusive in-game items. Also at the event is exclusive merchandise and chances to participate in social events for players and developers to meet one another. The MADE Mafia induction is happening Oct. 15 -16 at the Palms Casino Resort. We'll see you in Vegas. And welcome to The Family.
When: October 15 – 16, 2010
Where: Las Vegas, Nevada –
The Palms Casino and Resort
What Are the Activities?
Hang out with your friends and meet developers in the Mafia Wars Lounge. The MW Lounge is the hub of activity where you can play Mafia Wars from your own laptop using our free wifi or jump onto any available machine we have in our gaming lab. Get real goods from our MW's Lounge Marketplace. Participate in a variety of activities we have planned for you at the lounge including contests, themed photo booths, developer meet ups, and of course food and beverages. This lounge is open for access throughout the duration of the event so you can meet your friends at any hour of the day or night for your own Vegas adventures.
Who can pass up a pool party? If this is your scene we are looking forward to sunny skies and mild temperatures in mid October. Check the weather report before you pack and don't forget your poolside essentials, we've booked time for you to relax and enjoy this activity on both Friday and Saturday.
No convention is complete without some panel discussions and we've got a bunch planned so you can pick your Mafia Wars passion. We've selected a few of them to show off here, those attending the event will have the chance to attend 4 discussions of their choice.

Bringing the Virtual to Reality–Meet an Ex-Mafia and an Ex-FBI Agent
Executive Panel–The Masterminds of Mafia Wars
Player vs. Player Design–Fighting the Good Fight!
Gifting & Trading–Moving the Goods!
New City Creation–Making a World from the Art Up!
Security–Keeping You and Yours Safe!
Systems–Looking Under the Hood?!?
It's Vegas Baby!–Vegas Design.
Prizes and giveaways throughout the show, everyone is a winner in Vegas at MADE! Get your event collectible t-shirt and also receive an additional gift in your real "mystery bag". We have some in game goodies for everyone who attends plus prizes for contest winners.
Party like a Rock Star at Rain! On Friday night all attendees (21 and older with valid ID) will gain access to Rain one of Las Vegas's premier nightclubs. Make sure and get your style on this club has a dress code. VIP ticket holders will have access to the popular upper deck with private VIP rooms and an open bar. All attendees will also have access to all nightclubs at The Palms on Friday night, check out the website for more information.
Saturday night we are closing out the show with our Awards ceremony to be held at the beautifulPearl Theatre. Enjoy the final program in this relaxed and beautiful setting where we listen to a keynote address from Scottie K, find out who from the community is getting MADE, and a few more surprises. The best Mafia Wars costume at this event wins a prize so if you have a get up you want to sport, this is your chance to strut your stuff.
What is the difference between the tickets?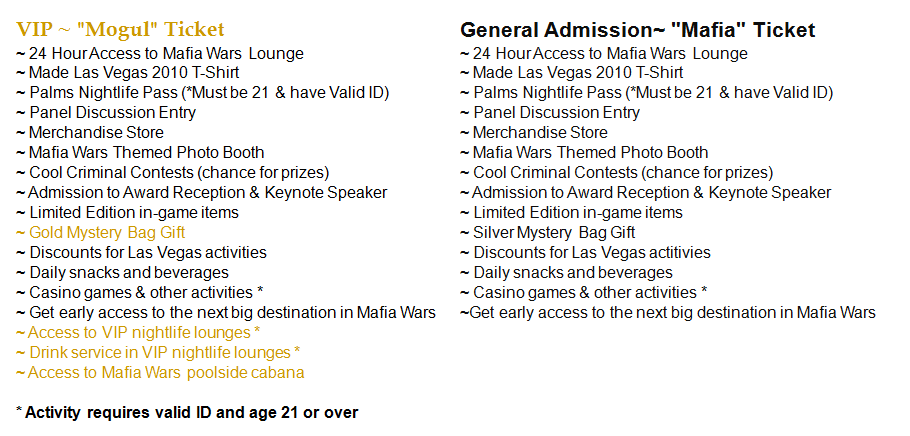 Does the ticket price include travel and hotel?
Travel and accommodations are not covered in the ticket price. However, we have arranged a special discount at The Palms hotel. Book online by clicking this link directly to the MADE rates: Book hotel now! Or mention
AZ1015D if booking with a Palms representative.
I have more questions how do I contact you?
You can email events@mafiawars.com if you have additional questions about this event. We will be releasing weekly updates to our ticket holders via email.
Ticket Information
| | | | | |
| --- | --- | --- | --- | --- |
| TICKET TYPE | SALES END | PRICE | FEE | QUANTITY |
| Early Bird 15% Discount VIP – "Mogul" | 7m | $399.00 | $9.95 | 0 1 2 3 4 5 6 7 8 9 10 11 12 13 14 15 16 17 18 19 20 21 22 23 24 25 26 27 28 29 30 |
| Early Bird 15% Discount General Admission – "Mafia" | 7m | $229.00 | $6.72 | 0 1 2 3 4 5 6 7 8 9 10 11 12 13 14 15 16 17 18 19 20 21 22 23 24 25 26 27 28 29 30 |
| VIP – "Mogul" | Not Started | $469.00 | $9.95 | N/A |
| General Admission – "Mafia" | Not Started | $269.00 | $7.72 | N/A |
When
Friday, October 15, 2010 at 8:00 AM


– to –


Saturday, October 16, 2010 at 8:00 PM (PT)
Where
The Palms Casino and Resort
4321 West Flamingo Road

Las Vegas

,

NV

89103
Recent Posts

Top Posts & Pages

Search For Past Blogs

Follow Us On Networked Blogs

Listen To Our Radio Station